Arvind Desai Ki Ajeeb Dastan – Film Review
(spoilers ahead)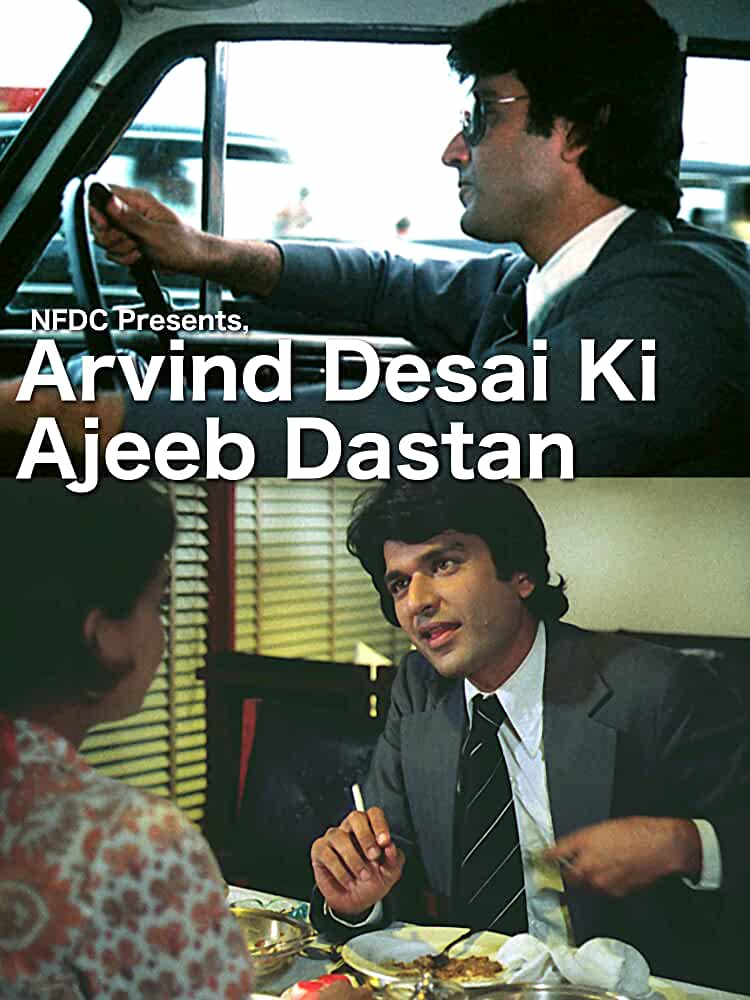 This is one of my all-time favourite movies. A charming arthouse flick that feels like the inside of a pre-liberalization era rotary dial telephone. Its production values, in this Netflix-era, will make you cringe, the editing is uneven and the sound feels like it's coming out of the speaker of a Premier Padmini. But, surely Arvind Desai's strange tale will charm you. Directed by Saeed Akhtar Mirza, the movie follows the life of Arvind Desai (Dilip Dhawan), a wealthy upper-class/caste man, who has inherited his father's successful business, but only engages with work half-heartedly and spends his time by either driving around Mumbai aimlessly or meeting friends.
Arvind Desai runs a shop that sells high-end carpets and souvenirs sourced from middlemen and by all means, seems to be doing well. But, there is something inside of him, eating him up and the whole film is a manifestation of this malice. His easy life is one of amorphous purpose; he drifts from one encounter to another, sticking out like a sore thumb in every one of them. As a character study, Arvind Desai is shown with a subtlety that is rare to Hindi cinema for he is a protagonist who is feeling anchorless in his privileged life. He is morose without any dramatic wrongs in his life nor does he have any overwhelming sense of rage.
Arvind Desai's dates his beautiful typist Alice, if you can call it dating. He is stylish, tall, fair, well-built; much in the template of a handsome Indian male. She seems to be both charmed and uncomfortable by him as they go for meals to fancy restaurants. It is soon apparent that he has feelings of inadequacy and feels that he doesn't deserve her. Eventually, he mistreats and alienates her. The relationship is strangely asexual too, there is no sense of fondness or attraction. It's as though he is doing it because he can, which is a defining trait in his life. His career, friends, lifestyle, girlfriend are all forced upon him by circumstance or lineage. The only interest in sex is his tryst with a disfigured prostitute but even there, he walks away on his second visit.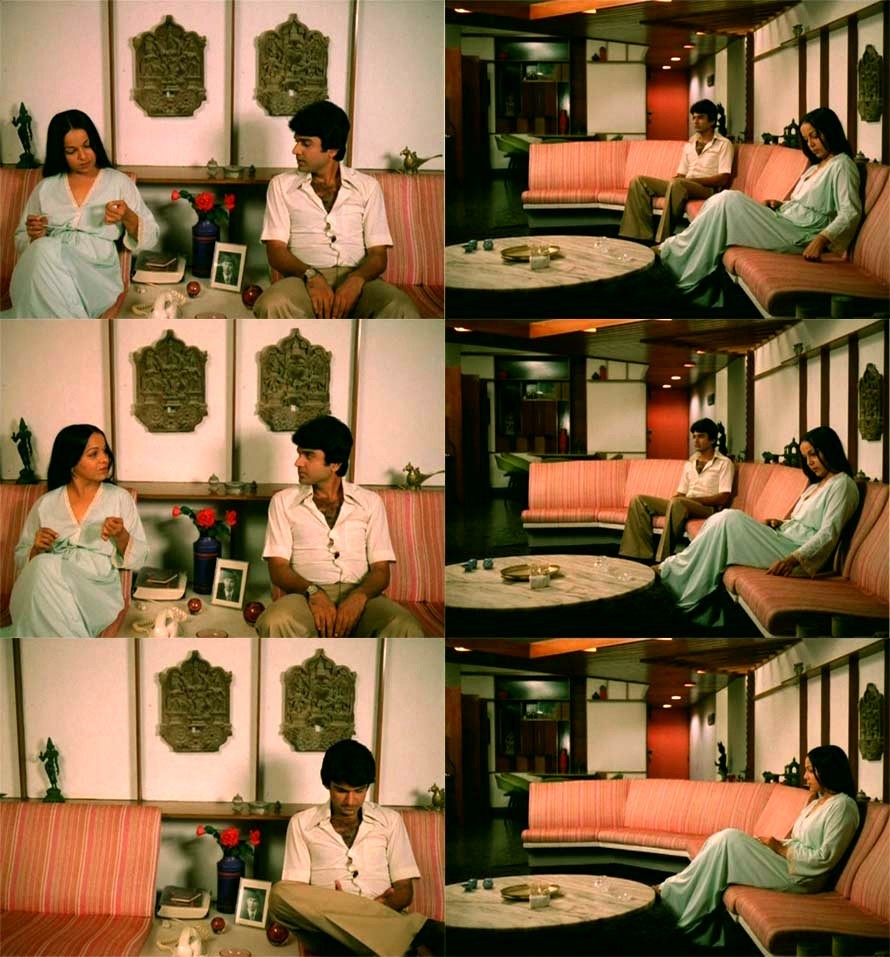 His other prominent relationship is with his friend Rajan (Om Puri), who is a college lecturer cast in the role of a quintessential impoverished leftist intellectual. Arvind is in awe of his convictions and his dedication to his intellectual cause. He tries to fit in with him and his friends but is soon left feeling inadequate. In a scene where they are drinking beer and discussing politics in Rajan's room, Arvind moves away from them and looks out of the window unable to make contributions to the conversation. In another scene, Arvind confronts Om Puri about his purpose in life, but Om Puri also betrays a fraying sense of unhappiness and frustration because of ideological reasons, adding to Arvind's deepening sense of ennui.
His parents are excellently portrayed in the mould of a 'normal' Indian well-off family. Arvind's father (Shreeram Lagoo) claimes to be his friend and gives him "freedom", which is a false freedom, for he has condemned his son to work in a carpet shop for the rest of his life. The mother is passive and is always praying and elicits only his sympathy. He does try to open up to his sister but is baffled by her unquestioning lifestyle choices and blissful ignorance. When he pushes her to look deeper, she makes a superficial change by donating money to the poor.
Slowly we can feel him adding to the miseries of his everyday life. When his cousin is caught selling goods on the side, he follows his father's logic and punishes a worker who was his only an accomplice. He is powerless against his father's domination and avoids him.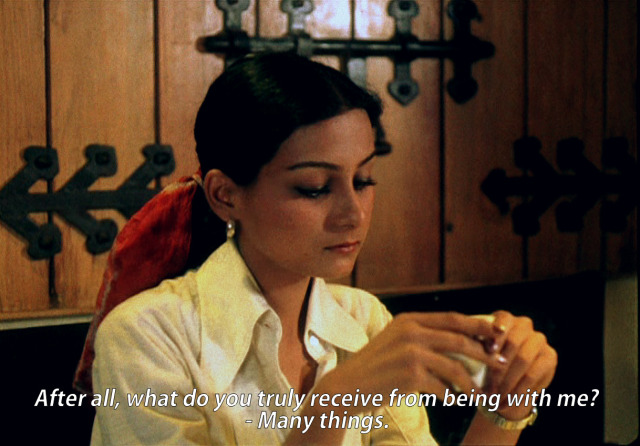 When a middle man tells him that the carpet workers are striking for a higher wage, he voices his support to them but doesn't make any concrete steps to support his views. He feels trapped in his life and he the knowledge of that is the source of his frustration. At one level, he knows what the fruits of his conviction will be disruptive. So, he is unwilling to throw the first stone, he just window-shops for solutions, be it looking at Solzhenitsyn books or his non-committal relationship with Anita or his posturing of support for the workers. That way he epitomises the views of "champagne socialists". Any deep introspection of the inequities will disturb the status quo and there is much to lose. Unable to cut ties with the social and economic web that connects him, his nascent conscience makes him feel guilt and shame. Every action of his feels disjointed and is an attempt to self-medicate his colossal imposter syndrome. But, his listless actions stifle his sense of justice and freedom and increases his feelings of self-loathing. His affliction reminds me a Philip Larkin poems, Ignorance:
Strange to know nothing, never to be sure

Of what is true or right or real,

But forced to qualify or so I feel,

Or Well, it does seem so:

Someone must know.

Strange to be ignorant of the way things work:

Their skill at finding what they need,

Their sense of shape, and punctual spread of seed,

And willingness to change;

Yes, it is strange,

Even to wear such knowledge – for our flesh

Surrounds us with its own decisions –

And yet spend all our life on imprecisions,

That when we start to die

Have no idea why.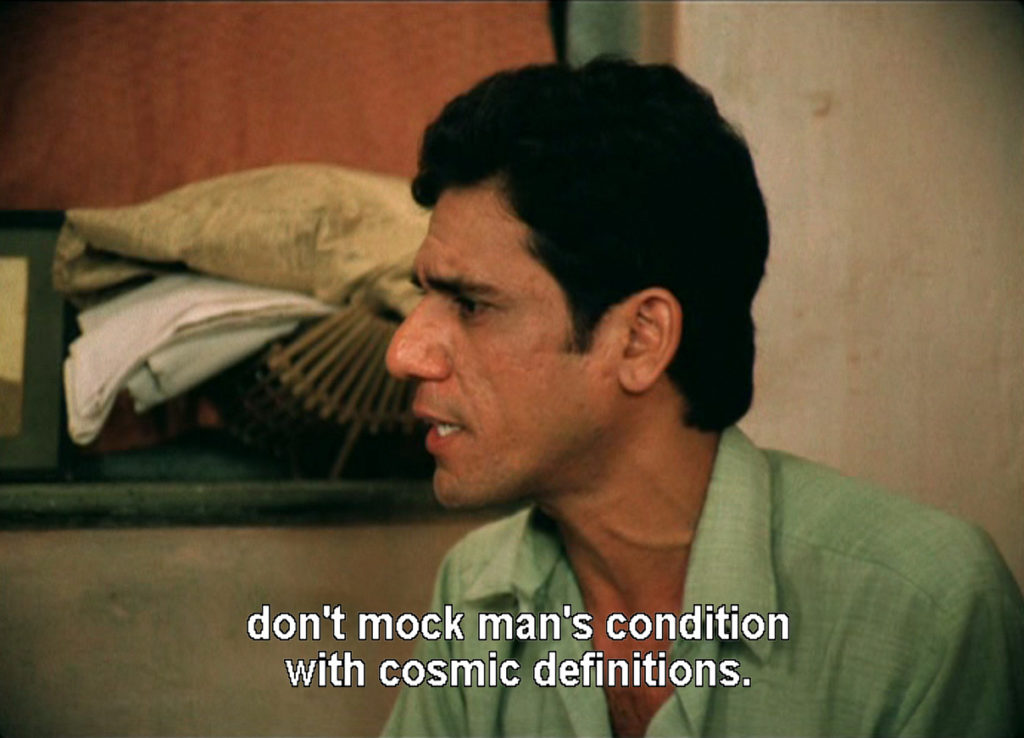 All these episodes are strung together in a languid pace with many interesting side characters; Alice's brother, her mother, the cousin and his ambitious friend. The way Mirza has shown the protagonist's interaction with the poor and his workers is a commentary on how the privileged are clueless to the suffering of the underclass, although its right in front of them. Mirza also shows snippets of dying skills like the street performer whipping himself and hijras in traffic jams. In his drives, we get to see a sleepy, dusty Mumbai, set against an excellent moody jazz soundtrack.
The movie opens with a long shot of a poor carpet weaver's family working on a carpet by hand and the next scene is cut into an expensive shop selling it to a foreign customer. The last shot of the movie also takes us back to the dirty streets of the village where the carpet is being made. Its as though to say that the whole story of an affluent man and his mental struggles are bookended by the workers' struggles.